2007 black tobiano.
No Risk is a (7 panel negative - GBED, HYPP, HERDA, PSSM, MH, LWO, IMM) homozygous black, homozygous tobiano SON of Ris Key Business. No Risk is well broke - very quiet and gentle.
As of 2015 he has never bred a mare.
If he's still here in 2016......you KNOW that's going to change. ;-)
Yeah, I know. We really aren't needing anymore Ris Key Business bred horses.....but seriously.....how could anyone resist this guy?
2022 stud fee: $750
$100 discount for early booking and/or multiple mares.
RIS KEY BUSINESS
Ris Key Business is a 1984 APHA black/tobiano stallion by Cheyenne Moon Bar and out of Happiness Is.
He is the APHA World Champion working cow horse, Amateur Reining and Open Reining Sweepstakes, Two-Time Reserve National Champion Open Reining, No. 4 Lifetime-leading Reining Stallion, Points Earned, Three-Time Honor Roll Champion - Superior Reining, World Show Reining Top 10 - 5 Times, ROMs in Open Reining, Western Riding, Working Cow Horse and Amateur Reining - Points in Open Cutting and Amateur Western Riding - APHA Futurity. First Go - Res. World Champion Non-Pro Reining Sweepstakes. Weanling Halter. Multi Leading Sires List.
Ris Key Business is also a Pt Horse Assoc. 6-Time National Champion - Open Reining and Reining Sweepstakes, Amateur Reining and Working Cow Horse, ROMs in Open Reining, Open Working Cow Horse, and Amateur Reining.
Ris Key Businessís offspring have an outstanding performance record. They hold such titles as: Multi Lifetime Top 10 and #1 Leading Horses, Multi World Show title holders. Multi World Show Top 10. Congress All-Around Performance Champion and Reserve Champion World Show Western Performance Champion, Oscar Crigler Cattle Performance Champion, Futurity finalists, Multi Superiors, Multi ROMs and Points, Multi Honor Roll Champions, Multi Honor Roll Top 10, TRHA, NRHA, PTHA, OCAP, & Open Show Point and Money earners, Performance and Halter Champions, Honor Roll Champions and Top 10.**
**copied directly from the NRCHA web site**
2005 NRCHA (reined cow horse) leading paternal gsires list
SHOTS FLYING SPARK
1988 APHA Black Tobiano Stallion
ShotOfFlyingVelvet x Miss Jingo Bars
1993 APHA Reserve World Champion Tobiano Color
1994 APHA Reserve World Champion Amateur Breakaway Roping
1 Superior
Amateur Breakaway Roping
2 ROMs
Open Heeling, Amateur Breakaway Roping
68 APHA Performance Points (Open)
14 APHA Performance points (Amateur)
APHA Points
Calf Roping, Heading, Steer Stopping
23 PtHA Halter Points
40 PtHA Color Points
APHA & PtHA World & Reserve World Champion Sire
APHA Superior & ROM Performance Sire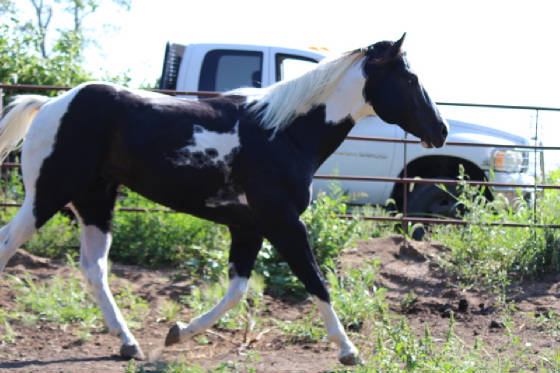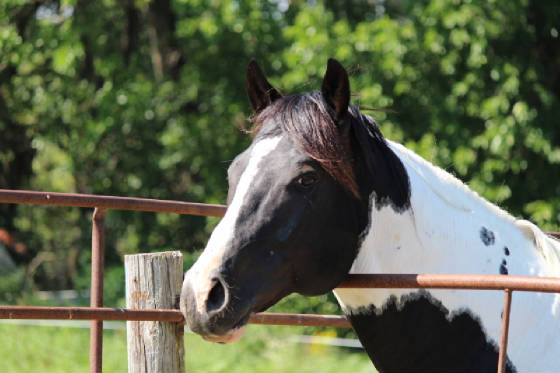 XXXXXXXXXXXXXXXXXXXXXXXXXXXX
Pepsis Color Master
https://youtu.be/64hc_-Acrao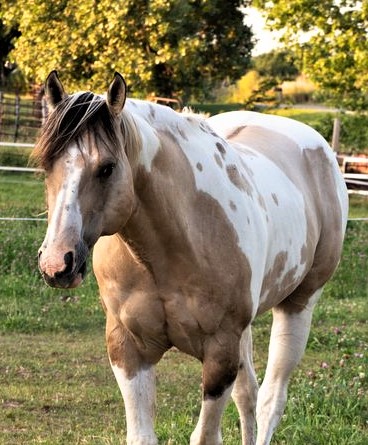 Age 15 in this photo.
Pasture condition.
LOVE this boy!!
2006 dunskin tobiano stallion (registered dun, but also has cream/buckskin gene)
homozygous tobiano
homozygous black
heterozygous agouti, dun, cream
7 panel negative (GBED, HYPP, PSSM, HERDA, MH, LWO, IMM)
Sire: Quixotes Mastrpiece (point earning son - roping - of RR Riskymastrpiece o/o dtr Doc Quixote)
Dam: Poco Nifty (by Pepsi Poco)
($15,000)
Pepsi - July 16, 2014.
Just completed his first breeding season for us.
Looking forward to the 2015 foals!!
When I began the search for our next stallion, I had two bloodlines I wanted to avoid. I did not need more Ris Key in the bloodlines, nor did I want one other particular APHA cowhorse bloodlines. Right now I am thrilled that I waited for what looks to be an almost perfect stallion. The only thing that makes this guy 'almost' perfect is because I was specifically looking for an outcross for our daughters of Ris Key, so - as stated earlier - I did NOT want Ris Key in the new stallion's pedigree. After a LOT of searching, it turns out that's kind of hard to do if you are looking for a well bred tobiano 'cow horse'. While some of our best horses have been (and still are) double bred (up close) Ris Key horses, we've also had a couple of breedings that we would not repeat. And when you get to the triple bred horses....well, everyone has their own opinion on how close is 'too close' and how many times is 'too many times' .... but responsible breeders do consider it 'in breeding' when the pedigree has the same name more than twice on the actual registration papers - ESPECIALLY if you are mating half/full siblings and/or mating back to dam/sire.
On the plus side of the pedigree, if we are the home of the Ris Key Business horses, it makes sense to stand another Ris Key bred stallion, even if it is a bit further back on the papers. Pepsi is Ris Key's great grandson, so he won't put the Ris Key name on his offspring's papers.....and that makes him genetically diverse enough to cross back on our daughters of Ris Key. Plus his grandsire is one of Ris Key's best sons....RR Riskymastrpiece.... (and quite possibly would have been just as well known as his paternal brother - Strait from Texas - if he didn't have to compete directly against him and/or been campaigned/marketed harder) Pepsi's performing sire (roping) is out of a daughter of Doc Quixote (who I consider one of Doc Bar's greatest sons), and Pepsi's dam is a daughter of the great foundation sire - PEPSI POCO (sire of QT POCO STREKE, earner of multiple NRHA championships and Hall of Fame inductee)...
So...in a nutshell, Pepsi's sire is a point earning son of one of the most talented horses of all time - RR Riskymasterpiece, and his dam is a daughter of Pepsi Poco. You will find RR Riskymastrpiece, Doc Quixote, Doc Bar, Pepsi Poco, Cutter Bill, Q Ton Ace, and Ris Key Business for names on papers and relatively close 'goes back to'.
Gonna be hard to beat this pedigree with overall strength on both the topside and the bottom.
This guy has - by far - the best conformation of any of the stallions I was looking at. Love, love, LOVE his beautiful head and fox ears. This guy also has the best overall pedigree of any of them, in addition to the best color genetics. Because he is buckskin and dun and homozygous for black and tobiano, most of his foals will be 'triple colored'. Regardless of color of mare (disregarding gray), the overwhelming majority of his foals will be grullo, smokey grullo, dun, buckskin, dunskin, black or smutty black...and will always be tobiano. A slight percentage will be bay tobiano.
Want to see what color Pepsi will produce when bred to YOUR mare? Be sure to fill in homozygous tobiano TOTO, homozygous black - EE, heterozygous agouti - Aa, heterozygous cream - CR, and heterozygous dun - DN for Pepsi's color genetics on the chart. If you don't get over 75% chance of 'triple color' you didn't fill in the chart correctly for Pepsi.
One last thing to mention (and I didn't know it until he got here) he is a super, super sweetheart. Excellent manners, great disposition. Did I mention how lucky we are??
2022 stud fee - $750
discount to approved point earners/producers.
$100 discount if booking fee is received before January 1st.

We do offer shipped semen on Pepsi.
Additional costs (vet and Fed Ex fees) are $380.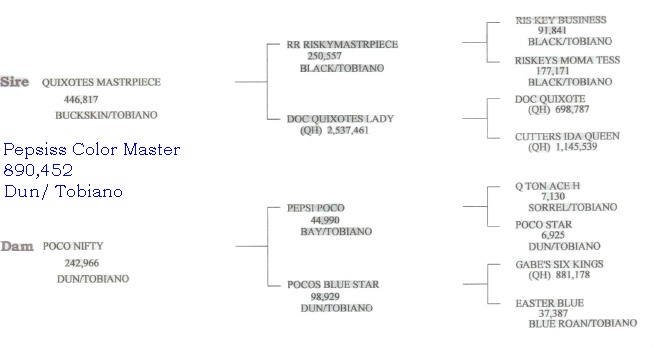 Maternal Grandsire:
PEPSI POCO
bay tob 15.1 H
Sire of NRHA Multiple Bronze Trophy winner and money earner. APHA Champion, ROM and SUP Reining and WP offspring, ROM performers in WP, Reining, Trail and point earners in BR, PB, WH, Trail, Reining, WP, Working Cow Horse and APHA high point reining sire.
Q TON ACE H
sor tob
ROM WP, NSBA Hall of Fame and Sire of 66 performers, AQHA Champions, World Champions, ROM & SUP offspring in WP, HUS, WHO, HSE, SAH, WR, and HLT
Dam
POCO STAR
dun tob
APHA Halter Point earner, and res. Grand Champion at Halter. Dam of offspring earning ROMs and Points in Halter and Performance events
Maternal Grand dam
POCOS BLUE STAR
dun tob
Dam of 2 Performers include Pepsi San Man Halter point earner and ROM Reining and Puddle Jumper ROM in Reining
Paternal Grandsire:
RR Riskymastrpiece
2001 - APHA World Champion Calf Roping
1999 - APHA World Champion Heeling
1999 - APHA World Champion Steer Stopping
Superior in Calf Roping, Heading, Heeling, and Steer Stopping
ROM in Working Cow Horse
Points earned in Halter, Reining, and Trail
1700+ Points earned as of 2001
#1 in Open Performance in 2000
#2 in Open Performance in '99 & '98
Producer of ROM earners in Reining, Heading, & Heeling and Certificate of Recognition in Halter.

Also on papers:
Doc Quixote
AQHA# 0698787

Blaze/R.Hind sock/L.Hind Stocking
NCHA $3,728.96
NCHA COA
1973 NCHA Cutting Futurity Non-Pro Champion
NCHA Hall of Fame Sire.
Sire of:
World Champion
Res. World Champion
Superior Performance
AQHA HI.PT.Perf. Stallion
AQHA Champion
NRCHA Champion
ROM Halter
ROM Performance

Lightning Bar
Doc Bar
Dandy Doll
Doc Quixote
Bull's Eye
Magnolia Gal
Sporty Gal
Doc Quixotes Lady
Buddy Dexter

Cutter Bill

Billie Silvertone
Cutters Ida Queen
Royal King
Royal Ida
Ida Red
---------------------------------------------------------------------------------------------------------------------------------------------------------------------------------------
xxxxxxxxxxxxxxxxxxxxxxxxxxxxxxxxxxxxxxxxxxxxxxxxxxxxxxxxxxxxxxxxxxxxxxxxxxxxxxxxxxxxxxxxxxxxxxxxxxxxxxxxxxxxxxxxxxxxx