If you would like to see dozens (hundreds?) of photos of these foals (or any of our other horses), you can find them at our face book page: Diaman H Stables

Because Diaman H Stables face book page is a business page, it MUST be set to public viewing....which means you do NOT need to have a face book account to access the albums.

I update the albums for the youngest horses every week or two until winter. Since they are in the pasture most of the time, they do grow heavy winter hair. Winter photos rarely do them justice. Once they start to shed, I'll again take regular photos of them (usually in May).

If you want to be automatically informed when I update photos, simply "LIKE" the Diaman H Stables page.

Thank you!



XXXXXXXXXXXXXXXXXXXXXXXXXXXXXXXXXXXXXXXXXXXXXXXXXXXXXXXXXX

DIAMAN H TRULY NO RISK May 25th, 2021
Black tobiano filly

Sire: No Risk (by Ris Key Business)
Dam: Con Brio (by A Tru Rolex)

This filly is 5 panel negative through parentage.
Homozygous tobiano and has 1 blue eye.
I think this is my "keeper" for the year, and is priced accordingly.

$7500
Con Brio
A Tru Rolex
Tru Bruiser
Painted Tru Tru
Lily Quadrille
Fridays EbonyNLace
Dandy Pac Friday
Simi Su
Chips Celtic Melody
Seven S Chippendale
Zips Chocolate Chip
Seven S Yellowbird
Bucks Little Darlin
Buck The Vantage
Son Dee Darlin
Pedigree generated by PedigreeQuery.com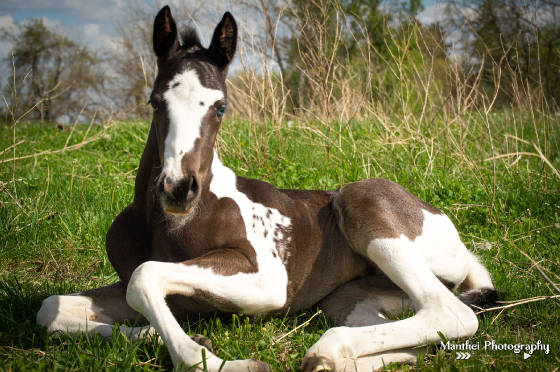 XXXXXXXXXXXXXXXXXXXXXXXXXXXXXXXXXXXXXXXXXXXXXXXXXXXXXXXXXX


DIAMAN H RISKY GEMINI
May 5th, 2021
Brown (w/possibility of cream gene) tobiano filly

Sire: Diaman H Smart Sparks (by Pepsis Color Master)
Dam: Diaman H Peggy Sue (by A Breeze of Class)

This filly is 5 panel negative through parentage.

$3750

**Relisted** due to buyer's financial issues.
XXXXXXXXXXXXXXXXXXXXXXXXXXXXXXXXXXXXXXXXXXXXXXXXXXXXXXXXXX


DIAMAN H GUNNITS RISK
May 9th, 2021
Bay tobiano colt

Sire: Gunnits Riskey Flyer (by Gunnit)
Dam: Diaman H Straits Risk (by Ris Key Business out of a daughter of Strait from Texas))

This colt is 5 panel negative through parentage.

Stallion owner has expressed interest in this colt and will be given first chance to purchase this colt. He will be priced according to his homozygousity status (tobiano and/or splash). Tail hair has already been sent in.

Test results are back. He has BOTH a tobiano AND a splash gene!

$4000

**SALE PENDING**
May 25th, 2021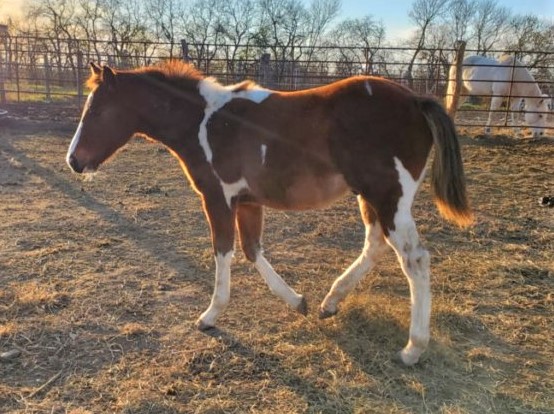 XXXXXXXXXXXXXXXXXXXXXXXXXXXXXXXXXXXXXXXXXXXXXXXXXXXXXXXXXX


DIAMAN H TRURISK LENA
June 13th, 2021
Black tobiano filly

Sire: No Risk (by Ris Key Business)
Dam: Tru Lena (by A Tru Oakley)

This filly is homozygous tobiano and negative for all dominant disorders through parentage.

$5000.

sale pending (again)(June 2022)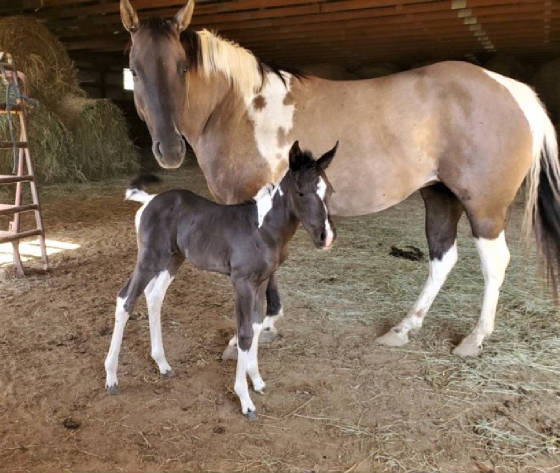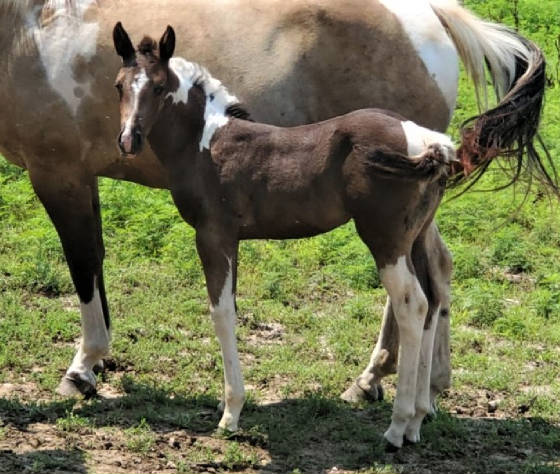 XXXXXXXXXXXXXXXXXXXXXXXXXXXXXXXXXXXXXXXXXXXXXXXXXXXXXXXXXX

June 28th, 2021
Grullo roan tobiano colt

Sire: Pepsis Color Master
Dam: Diaman H Musical Risk (by A Breeze of Class)

This colt will end up a very interesting color. Waiting for him to shed, as we've never had a grullo roan born here before. This colt is 5 panel negative through parentage. Sire and dam are 15.1 and 15.2+....so this guy should be good sized at maturity.

For those of you not familiar with the unique tobiano/roan color genetics....all of his foal will either get his tobiano gene OR his roan gene. Essentially he is homozygous for 'color'...color defined as tobiano and/or roan. If you have a hz tobiano mare 50% of his foals will be roan tobiano and 50% will be hz tobiano. In addition, since he has the dun factor gene, 50% of his foals will also be dun (either dun/grullo roan or dun/grullo tobiano)

If you want him as a stallion prospect and are willing to let us retain breedings, we could be negotiable on price.

$6500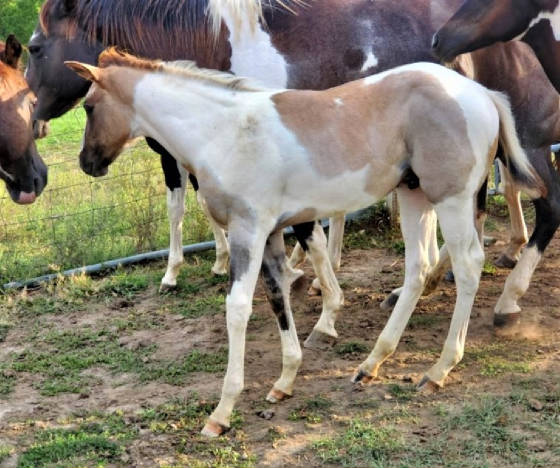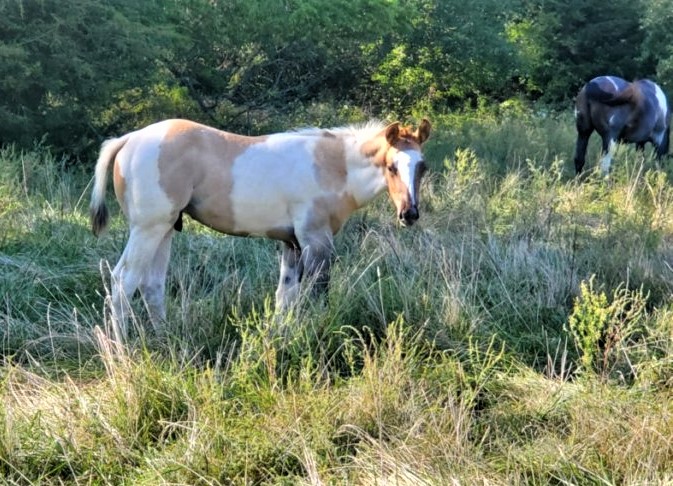 XXXXXXXXXXXXXXXXXXXXXXXXXXXXXXXXXXXXXXXXXXXXXXXXXXXXXXXXXX


DIAMAN H MASTER KEY
October 20th, 2021
Bucksin/dunskin tobiano filly

Sire: Pepsis Color Master (grandson of both RR Riskymastrpiece and Pepsi Poco)
Dam: Diaman H Ris Key Tigg (by Ris Key Business)

This filly is 5 panel negative through parentage.
She looks homozygous/double homozygous, but we will test her to be certain. We won't test for black (E) since her dam's tobiano and black genes are linked. Therefore if she tests positive for tobiano (TT), she is virtually guaranteed to be homozygous for black as well.
She is buckskin colored....with the potential of also having the dun factor gene (which makes her a dunskin, like her sire)
We will probably also test her for the dun gene.

$5000 (if she's homozygous)
$3500 (if she's not homozygous)

TEST RESULTS: TOTO, nd1nd2

She is a homozygous tobiano/black buckskin with primitive markings.

$6000

**SALE PENDING**
6/2/2022