Unless noted otherwise - All horses are healthy and sound. They are either 'duplicates' of something we already have, or we have little use for them - specifically the geldings Can't ride them all.....

XXXXXXXXXXXXXXXXXXXXXXXXXXXXXXXXXXXXXXXXXXXXXXXXXXXXXXXX

CASS
2017 black tobiano gelding

5 panel negative through parentage.

Currently in training and proving to be a very safe, reliable horse. Pheasant flew into him up out of the CRP field while being ridden....NO SPOOK.
I believe this gelding will make an outstanding kids horse with just a little more age on him and/or taking lessons with a trainer.

This gelding has huge potential, but he does have a sway back. (technical term for sway back is lordosis, if you want to look it up)

"One of the unique characteristics of lordosis in horses is that the spinal deviation does not have a disabling effect," observes Patrick Gallagher, PhD, who researched equine lordosis while a graduate student at the University of Kentucky. "Even the most severely affected individuals can be trained and ridden and can participate in horse shows.

Lordosis affects horses of all breeds, and neither the early-onset variety nor the late-arriving form has any particular influence on horses' health or soundness. Swaybacked broodmares have no additional problems in conceiving, carrying or delivering their foals. Performance horses are not impaired to any significant degree by lordosis, though swaybacked racehorses aren't among the fleetest and affected show stock may have slightly altered gaits.

Gallagher doesn't recall seeing a lordotic horse with obvious use-caused back injury, but he has observed affected horses who displayed some subtle sourness under saddle that may have been associated with impingement. Careful saddle selection and appropriate padding are the primary considerations in outfitting lordotic horses for riding. Swaybacked horses should be able to perform in harness without any particular accommodations to their abnormality.

$3000 (with considerations to a home that will use him as a kid's horse.)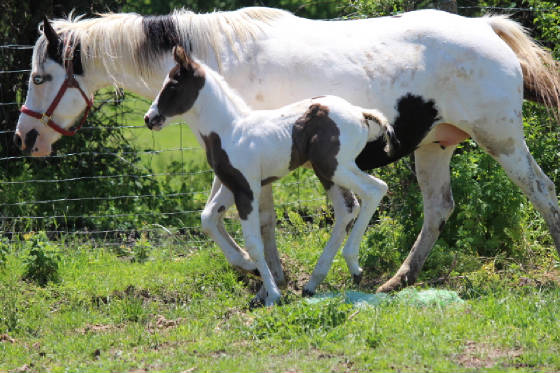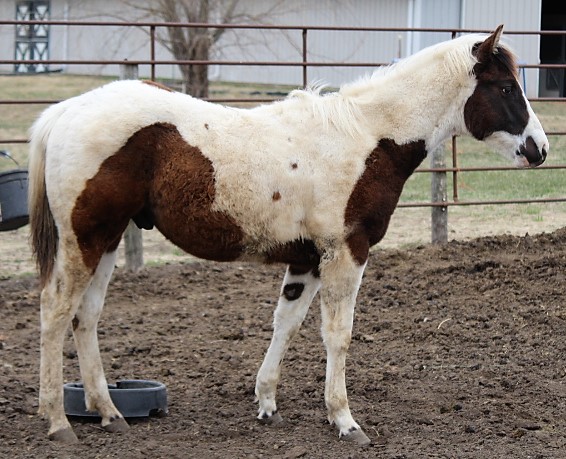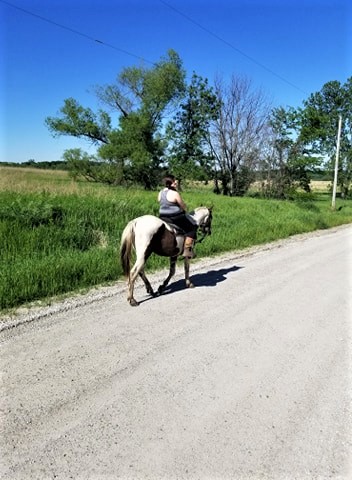 XXXXXXXXXXXXXXXXXXXXXXXXXXXXXXXXXXXXXXXXXXXXXXXXXXXXXXXX



Baron Bark Mindy
AQHA #4937795
2007 red roan mare
Sire: Fancy Red Bark (gson of Fancy Roan Bark and Roan Bar)
Dam: Dolly Bar Baron (gdtr of Mr Baron Red and Jack Eyed)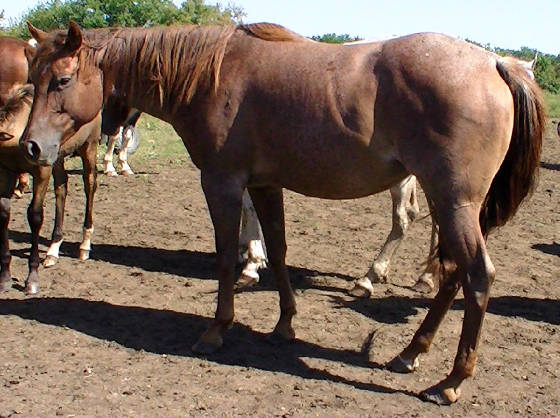 Price reduced on this mare to $350. She has a foal by her side, so will not be available until September. She is a nice, gentle mare. Good sized (15.1 or so) with great conformation and a pretty little head and ear. We are selling her because she is no longer eligible as a broodmare. We were advised this past spring - by owners of Fancy Red Bark offspring that tested positive with PSSM - to test her. She did come back as N/P1, so no more foals for her. While she is not symptomatic, there will never be any guarantee that her foals will not be - REGARDLESS of what stallion she is bred to - as PSSM is a dominant gene. PSSM can be severe/painful enough to require euthanasia.
Mindy requires no special care, as I said, she in non symptomatic. She is kept on pasture 24/7, where she can self exercise and we do not feed grain to most of our broodmares. Those are pretty much the rules of caring for any horse with the potential to 'tie up' (the generic term for PSSM.)
Currently priced at $350.
Offers will be considered if she's not gone by the time we wean in September.
**September update**
>>>>>WE HAVE WEANED THE FOAL AND FOUND A PERMANENT HOME FOR THIS MARE<<<<