Unless noted otherwise - All horses are healthy and sound. They are either 'duplicates' of something we already have, or we have little use for them - specifically the geldings Can't ride them all.....
XXXXXXXXXXXXXXXXXXXXXXXXXXXXXXXXXXXXXXXXX

RAMSEY
2012 dun tobiano gelding

Super friendly gelding that stands around 15 hands. Broke to ride on trails, or in the arena.

He's quiet enough that he'd probably make a decent lesson horse.

This guy has been safe and reliable on trails. He neck reins well. He will come find you in the pasture and LOVES attention. We have been riding him in a hackamore, but he does ride better in a snaffle. He's had some rough handling in the past and does not take the bit well. Time and patience and let HIM take the bit (do not force) works well.....but it's just easier for us to use a hackamore.
We just had the vet look at him since you can hear him breathe at times (regardless of exercise) and with a scope they determined he does NOT have allergies or COPD, he's simply what commonly is known as a 'roarer'. His condition does not get worse and he should not have any problems with trail riding, fun shows, etc. (Our vet did say he'd advise against turning him into a long distance race horse. LOL)

https://youtube.com/shorts/fmGyHKYjkUM?feature=share

$4000.

NOW ** $3250 ** (Need to cut back on feed bill)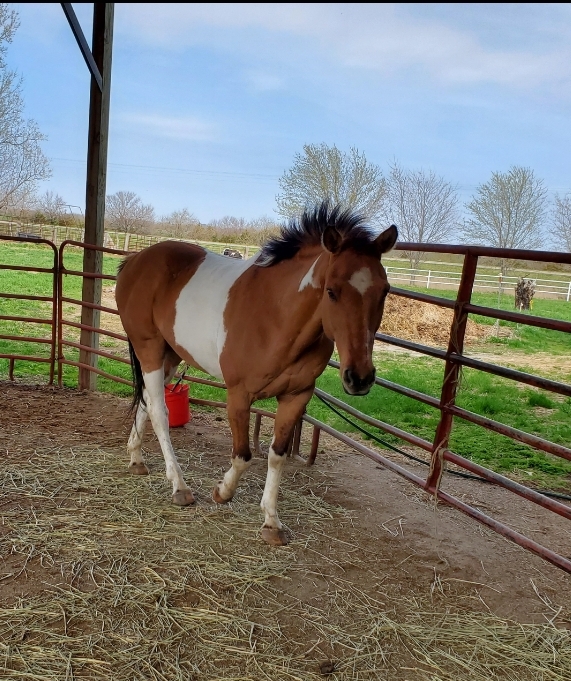 XXXXXXXXXXXXXXXXXXXXXXXXXXXXXXXXXXXXXXXXXXXXXXXXXXXXXXXX



Baron Bark Mindy
AQHA #4937795
2007 red roan mare
Sire: Fancy Red Bark (gson of Fancy Roan Bark and Roan Bar)
Dam: Dolly Bar Baron (gdtr of Mr Baron Red and Jack Eyed)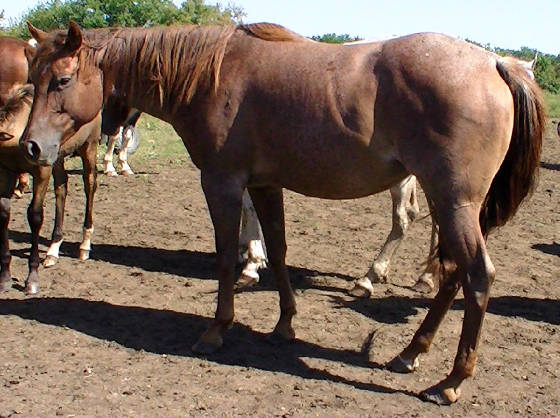 Price reduced on this mare to $350. She has a foal by her side, so will not be available until September. She is a nice, gentle mare. Good sized (15.1 or so) with great conformation and a pretty little head and ear. We are selling her because she is no longer eligible as a broodmare. We were advised this past spring - by owners of Fancy Red Bark offspring that tested positive with PSSM - to test her. She did come back as N/P1, so no more foals for her. While she is not symptomatic, there will never be any guarantee that her foals will not be - REGARDLESS of what stallion she is bred to - as PSSM is a dominant gene. PSSM can be severe/painful enough to require euthanasia.
Mindy requires no special care, as I said, she in non symptomatic. She is kept on pasture 24/7, where she can self exercise and we do not feed grain to most of our broodmares. Those are pretty much the rules of caring for any horse with the potential to 'tie up' (the generic term for PSSM.)
Currently priced at $350.
Offers will be considered if she's not gone by the time we wean in September.
**September update**
>>>>>WE HAVE WEANED THE FOAL AND FOUND A PERMANENT HOME FOR THIS MARE<<<<